SKF bearing units for food industry
Complete part = fastening bearing + house
Approved for food industry
Maintenance-free design
Multi-edge sealing
Many other advantages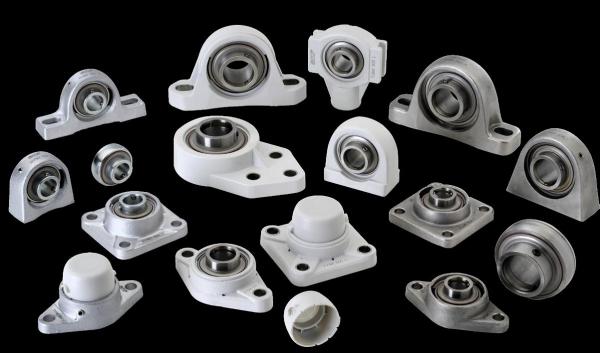 Fastening bearing with a ball-shaped stainless-steel surface or protective coating.
The house (provided with a concave hole) – polyester with glass fibre (a transparent design also possible = polyamide reinforced with glass fibre, containing also a steel spiral for greater solidity). The light grey surface of the body with smooth shapes ensures safety and meets hygiene requirements. End-lids may be applied.
These bearings are fitted with low-friction multi-edge rubber sealing which is vulcanised onto a stainless-steel ring. The multifunctional SKF sealing, originally designed for agriculture machinery, provides excellent protection against lubricant washing-out and the penetration of solid particles.
Protection against jet-washing.
The bearings require no additional lubrication. The maintenance-free design means - with little exaggeration - mount and dismiss.
Every bearing is filled with a plastic lubricant approved for the use in the food industry.
Characteristics, advantages
Bearing filled with a plastic lubricant approved by FDA – symbol A
low-friction multi-edge sealing, vulcanised onto a stainless-steel ring – symbol B
Rubber suitable for the use in the food industry from the rear side – symbol C
Filling of a plastic lubricant for increased sealing efficiency – symbol D
High-quality stainless-steel balls (100Cr6 steel for bearings with a protective coating) – symbol E
Ball outer surface correcting axle misalignment – symbol F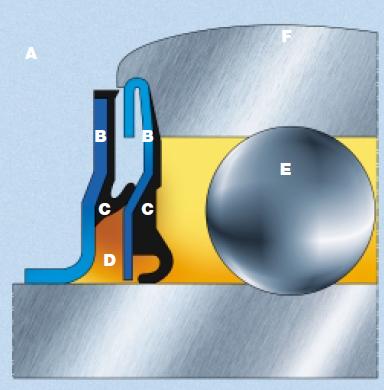 Sealing in the bearing unit:
Slinger ring and low-friction rubber sealing edges = protection against contamination and washing-out of lubricant, increased sealing efficiency against impurities penetrating the bearing mechanically as well as due to the centrifugal effect.
Flat sealing = prevention of particles and impurities penetrating the bearing in the place where the outer seal diameter is fixed to the bearing
Space between the inserted seal and slinger ring is filled with a plastic lubricant made by SKF for the food industry, increasing the bearing efficiency even further.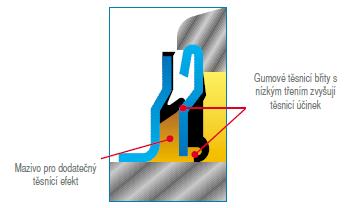 The fastening bearing is filled with a lubricant designed for temperatures from -45 to 120 °C – approved for the use in all facilities processing meat, fish, poultry and fruit.
In very extreme conditions, the bearings may be additionally lubricated (stainless-steel system for additional lubrication).